I might be not the first one to tell you that food you consume determines your state of health, your energy level and of course your daily mood. You also have been heard that greens and vegetables have to be included in a healthy diet on a regular daily basis. However, you have already noticed that gardening products you buy in store look kind of weird and taste quite plain.
You have bought those shiny looking vegetables that cost more than regular, you've purchased organic products as well, but truth is you just can't seem to feel satisfied with them. Perhaps you're even feeling a little disgusted with yourself and your inability to find reliable healthy greens. You feel like no matter what you try, it's not going to work.
If you are nodding along like "Yes, these GMO-epidemic and chemically infused greens scare me a lot!!!" you are in the right place, my friend.

Because if you continue to neglect what you put into your mouth as the store-bought produce
you'd be dealing with one of these annoying issues
(check all that apply)…
| | |
| --- | --- |
| ·       Upset stomach | ·       Constipation |
| ·       Toxicity and bloated belly | ·       Gastric distress |
| ·       Ulcers | ·       Abdominal cramps |
| ·       Irritable Bowel Syndrome (IBS) | ·       Food allergies |
| ·       Acid reflux | ·       Emotional overeating and binges |
| ·       Nausea and vomiting | ·       Fever and dehydration |
SARCASM, anyone?
Let's get serious for a second.
BECAUSE HERE'S A NOT-SO-FUN FACT:
The most common cause of food-borne illness is…
drum-roll, please!!!!
you guessed it: vegetables and leafy greens!
It's kind of like this: You are what you eat. Therefore, if you follow common perception and continue to buy produce in stores, ignoring the food recalls that were actually raised with a reason of multiple sicknesses they caused… you're going to have your stomach riding off the road all over the damn place!
There are multiple stories of people who can eat greens from their gardens but can't tolerate ones from the supermarket. And vegetables, fruits and leafy greens simply become a source of food poisoning from dirty processed equipment and unhygienic food preparation practices. (1)
Today you can't predict what conditions those produce items were through and where they coming from. After hearing of all those pesticides, fertilizers, conservatives and preservatives HOW YOU CAN TRUST WHAT IS IN THEM???
Have you seen for how much those vegetables have lately been increased in pricing? Do you think they are worth to pay so much? Especially when you have family members who eat you out of the house!!! 🙂 Did not you ever think to spend that money elsewhere?
Your grandparents have probably taught you how to grow your own food. But your children don't know that their food comes from a seed but not from a store. Now think what your children would have to eat if you don't stand up right now and say NO TO BUYING CONTAMINATED GREENS.
Don't you want your kids to eat naturally grown vegetables and fruits instead?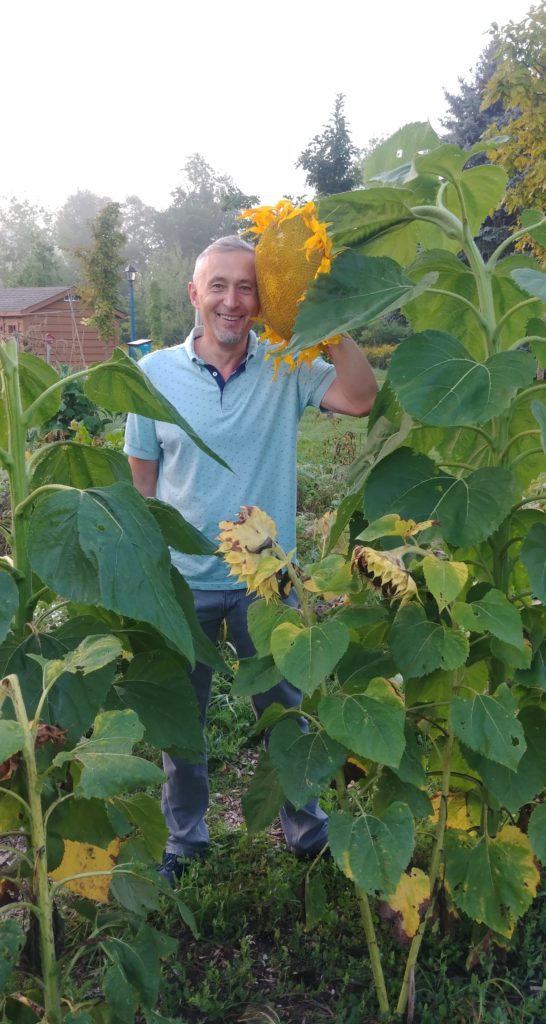 That's why you are here!
You might be thinking – "c'mon, I have spent last summer trying to tend of the vegetables in my backyard and educate myself by reading books and watching videos (OK, just browsed) on food gardening and lost my patience. They talk how to grow potato or tomato, how to sow and how to water, etc etc etc and I'm STILL not sure how to set up my garden to provide consistent food supply and I return to the shopping alleys in Fruits and Vegetables section of local supermarket…
Trust me, I get it. I've been there.
Which is part of how I know that solution to your stomach problems is NOT spending more of your hardly earned bucks in Organic store, BUT it's also not throwing your hands up in the sky and saying FORGET IT!
… Even if you really want to. Frustration does that. I get it.
You might not have found an answer, but giving up is not the answer, either.
There are simple and natural ways to grow what you enjoy eating that don't require extensive knowledge, hard work and high expenses.
And just who in the heck am I?
Hello folks,
In case we haven't met my name is Oleg. My passion is to promote the healthy way of living by growing your own edible and medicinal plants.
I'm one of you guys, I suffered personally from eating bad food, I know it was not easy. I have had problems with my stomach and experienced painful feelings in the digestive system. I have been terrified of eating meals, anticipating pains to reoccur again. I tried prescribed pills, they did not help. I was sent to ultrasound tests, they did not discover any visible problem. I was really disappointed, even pissed off. I was pre-diagnosed with a prostate cancer, I was shocked and scared. See my video on a side:
But I was able to overcome a scary part, removed all fears of unknown pains. I have taken a serious approach to my diet, I listened to the nutritionist who has strongly suggested an increase in vegetables consumption at every meal and snack. And now I'm here to help you out to:
Cultivate your edible garden as a low-maintenance with decreased chores and increased enjoyment;
Not only feed yourself but heal from possible diseases and improve your immunity by using a power of Nature built in medicinal plants;
Improve your lifestyle by creating delicious culinary and aromatic items from what you grow;
So that you will look, feel, and BE truly healthy from the inside out!
Because you've got so much in life to thrive for!
KNOW WHAT HAPPENS WHEN YOU GET YOUR FOOD, HEALTH AND LIFESTYLE IN CHECK?
You become unstoppable and able to live to your best...
Imagine that you are waking up one summer morning and stepping out outside to your deck to get a fresh air.
You oversee the garden with a plentiful amount of edible as well as medicinal fruits for your family. You nurture your soil; you know how to play with the light and how to water so your garden grows with easiness.

Your gardening style is economical and you save on grocery bills.

You grow your food chemically and genetically free. And you hear buzzing and humming of bumblebees and insects, gathering nectar and pollinating your blooming vegetables. They confirm the fact that your garden grows naturally.

You enjoy your food more than ever! Now you create your own nutritious meals. Now you can laugh with your kids when you prepare mix for smoothies, create juicy colourful salads and cook delicious vegetarian meals.
The best part? Your possibilities are endless.
You're ready to be healthy.
You're ready for freedom.
You're ready to reclaim the life your family wants to live.
 And you're about to because you're finally READY to make this commitment to YOU
Welcome to GARDENHOWTO Club!
In a nutshell, I'm on a mission to create this oasis as a way to help foodie gardeners like YOU get the guidance, direction and support you need to set up your kitchen garden in place and become the happy person you were meant to be.
You don't have to go to school to learn this. However, you do have to want healthy and delicious food on your table!
This is the first time GARDENHOWTO Club has been opened and there are only 20 BETA member spots available. You'll be getting the special one-on-one attention that is offered before there are 100's in the Community. It's the best time to get help and support.
Right now you have a unique chance to fine tune this content with me, showing me what you need, and will have lifetime perks as a BETA member.
Join Now
WHAT is
GARDENHOWTO Club
                                                  REALLY?
GARDENHOWTO Club is a membership community that provides its members with the GardenHowTo Masterclass, discussion forums, member calls, community, and ongoing group support.
The Masterclass will be a series of monthly modules that include step-by-step tutorials. Each month you will be taught a new lesson. I then will hold weekly Q&A virtual sessions where you can ask me ANYTHING! If you are not able to make it to Q&A don't worry because you will have access to me through forums. My goal is to build up the easy structured lessons that anyone could follow.
What You'll Get When You Become a Club member:
GardenHowTo Masterclass ($397 value)
Here is a sneak peek at some of the lessons you can expect to see inside the Masterclass:
→ How to overcome the challenge in growing your own food when you feel there is no time to grow everything and then it all seems to arrive at the harvest.
→ How to cooperate with the weather instead of frustrating and fighting with it so that you know what to plant and when.
→ How to step over the fear of difficulty of growing the edibles you choose.
→ How to run your edible garden from scratch.
→ How to sweeten your cuisine with edible flowers.
→ How to enhance your garden with medicinal herbs.
→ What medicinal weeds you have to grow and why.
BONUS: How to create culinary items from foods you grow.
Twice-a-Month Member Calls with Yours Truly ($597 value)
Imagine being able to get all of your food gardening questions answered AND hear from others LIVE on the phone. You'll get to do that once a month as a Member
Weekly Accountability ($217 value)
You let us know what ACTIONS you are taking on for the week and we make sure you have the strength and support to follow through
Discussion Forums ($197 value)
Where you can ask questions and get answers and support for where you are with your gardening
The Community! (Again...priceless?!)
Your Community Of Supportive People – your cheerleaders, your people, and friends. You don't know them yet, but soon you'll ask yourself how you EVER tried to do any of this without them. Trust me.
I look forward to showing you how to change your family's lifestyle with this amazing program.
What's Your Investment?
AS A BETA MEMBER, IT IS $27 FOR YOUR FIRST MONTH AND THEN $27 PER MONTH AFTER
For a limited time!
(Normally $97 per month)
Click the button below to make payment and I'll see you inside.
Join GardenHowTo Club for only $27 a month
It's time to set your diet and health under your control!